AWPT Safety Training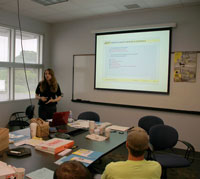 Classroom
Training begins in the morning with the classroom portion of our program, which takes approximately 4 hours and covers all aspects of aerial lift training from hazard identification and avoidance to pre-start inspections. Pre- and post-tests created by AWPT are administered, and ensure that students understand the material presented. Our program includes video, audio, power point, and group discussion to facilitate thorough understanding of aerial lift safety.
Challenge Course
The afternoon portion of the AWPT program includes familiarization with the equipment and practical demonstration of operator ability. The Institute has worked with AWPT to deisn challenge courses for scissor and boom lifts, as well as truck mounts. Students will need to complete the challenge course in accordance with the AWPT rubric in order to complete their training and receive their PAL card.
Facility
You can read more about our facility here. Coffee, snacks, and lunch are included with the price of the course and will be served onsite.
Pricing
For pricing information, please email us or call us at the Institute. In some cases, group rates may apply.